---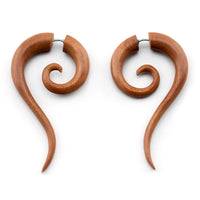 Did you know that you can enjoy the look of gauged or stretched piercings without enlarging your existing piercings? These 2.5 inch long Saba wood tail spiral earrings look like gauges when they are on your ears, but they conceal an exciting secret. Each hand carved earring is actually made of two pieces of tropical Saba wood, which attach securely onto your ear with a Push Back locking mechanism. The Push Back locking mechanism consists of a thin post on the back of the earring that you insert through the back of your ear and secure in a tiny hole in the front piece of the earring.
Sold in pairs (2 pieces)
These organic wooden fake gauge earrings are hand carved from Saba wood
2.5" Length
Push Backs locking mechanism .To secure the earring in your ear, the thin post at the back of the earring is inserted into a tiny,self-locking hole in the front of the earring. The earrings are removed by simply pulling the post out of the hole. No pin or ball fitting connection. Each piece looks like you actually have stretched / gauged ears.
Push Backs locking mechanism. To secure the earring in your ear, the thin post at the back of the earring is inserted into a tiny, self-locking hole in the front of the earring. Each piece looks like you actually have stretched / gauged ears.
316L surgical stainless steel ASTM F 138 push pin